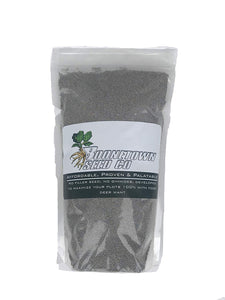 NEW!! Chow Down Chicory - Food Plot Seed
Regular price $29.99 Sale
NEW!! Boonetown Seed Company Chow Down Chicory is packed with protein, critical in antler and body growth! This blend is extremely Cold tolerant and once established can last through heavy drought. Chow Down Chicory is a perennial dual blend of chicory that CAN LAST 4yrs WITH A SINGLE PLANTING! This Chicory is an attractive food source for deer year round. Chow Down Chicory can be frost seeded in the spring, traditionally planted in early summer or fall seeded 45 days before the first kill frost. Chow Down can also be no till planted/broadcasted after a burn down. Can be planted alone, mixed with other seeds, or over-seeded into existing forages to provide gains in variety, attractiveness and drought-resistance. One bag covers 1/2 acre.
This food plot seed blend contains:
Oasis Chicory

Endure Chicory
Please note: all sales are final; we are unable to accept returns on seed.